Rosalie Kerr Hicks Eldridge

web posted July 23, 2018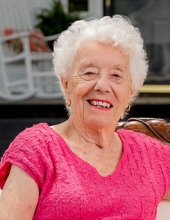 EVINGTON, VA. - Rosalie Kerr Hicks "Buck" Eldridge, 95, of Evington, VA, died on Saturday, July 21, 2018 in South Carolina following a prolonged illness.
Born in Lynch Station, VA, on April 27, 1923, she was the daughter of the late Virginia Leftwich and Carl Lewis Hicks of Evington. In addition to her parents, Rosalie was predeceased by her husband, Ernest Thomas Eldridge, and her brother Carl Lewis Hicks, Jr. of Evington, VA.
Rosalie was graduated from New London Academy and Randolph Macon Woman's College. She was a Stewardess for Piedmont Airlines, and later did substitute teaching in Bedford and Campbell Counties.
She loved horses and, later in life, bred, raised and showed American Saddlebred Horses. Rosalie was a volunteer for the National D-Day Memorial in Bedford, VA, until her health prevented her from serving.
She is survived by her son, Robert D. Eldridge (Ann) of Forest; daughters, Robin Peniston Hagaman (Jerry) of Johnston, SC; Burgess Eldridge Demers (Jeff) of Evington, VA; grandsons, Robert C. Eldridge (Brenda), Edward D. Eldridge (Dori) all of North Carolina, Matthew M. Peniston of Georgia; great grandsons, Ethan K. Eldridge, Dustin E. Eldridge, Dylan R. Eldridge, and Evan W. Eldridge all of North Carolina; a special friend, Jesse Wheeler; and a number of relatives and friends.
A Celebration of Rosalie's Life will be held at a later date in Evington, VA.
In lieu of flowers, please consider a donation in Rosalie's memory to The Green Beret Foundation, 14402 Blanco Rd, Ste 100, San Antonio, TX 78216.
Please sign guestbook and send condolences to
www.BlandFH.com
.