---
---
M. Janet Morgan Hill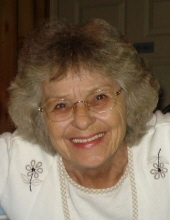 web posted May 17, 2018
MCCORMICK - M. Janet Morgan Hill, 84, of McCormick, SC entered into rest Wednesday, May 16, 2018.
Funeral Services will be 11 AM Saturday, May 19, 2018 at Parksville Baptist Church in Parksville, SC.
Mrs. Hill was born in Anderson, SC and was the daughter of the late Charles and Ollie Carroll Morgan. She was a homemaker.
Survivors include three sons, Mike Hill, Dickie (Tammy) Hill, and Glenn (Susan) Hill; three daughters, Tammy (Sammy) Brewer, Rhonda McDaniel, and Lisa Hill; one special nephew, Fred Harris; five brothers, Eugene, Arlon, Clyde, Edward, and Max Morgan; one sister, Linda Nichols; eight grandchildren, and sixteen great grandchildren. She was predeceased by her sister Eliose Harris.
Memorials may be made to Palladium Hospice and Pallintive Care, 7 Surrey Ct., Suite B, Columbia, SC 29212.
The family will receive friends Friday, May 18, 2018 from 6 to 8 PM at Edgefield Mercantile Funeral Home in Edgefield, SC.
Please sign the online register book at
www.edgefieldmercantilefh.com